I'm hoping the "Film" part of this section includes Microfilm...

https://www.maryferr...Id=195&tab=page is WCD7 p188. A FBI report from DOLAN, TOEDT & MAHAN about what they learned at Klein's and from where.
It states that William Waldman put the Microfilm of the Hidell order in a safe under his supervision and that he would be the right person to subpeona should that film be needed as evidence.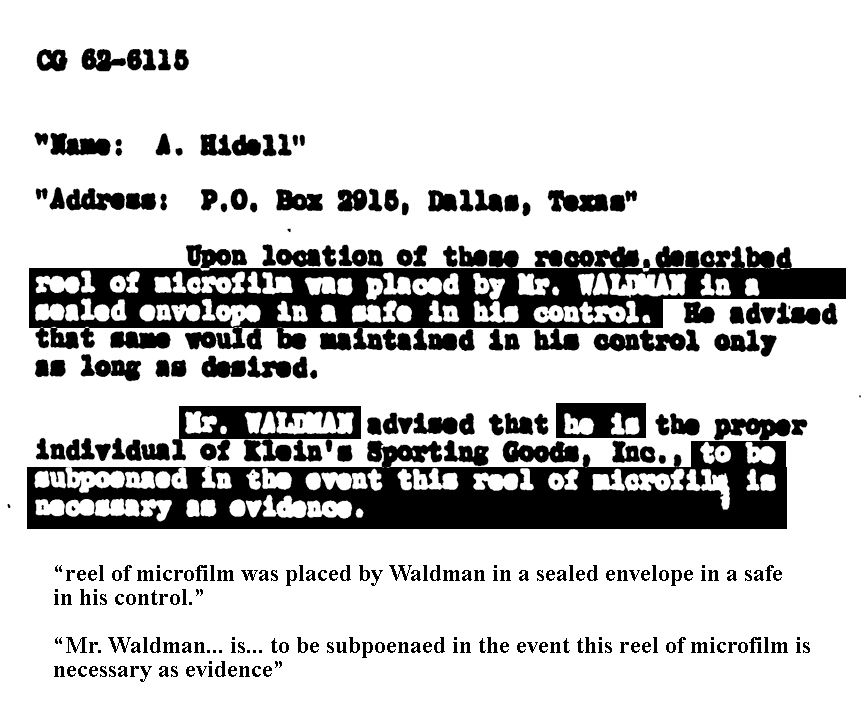 Now turn to page 189.
the same report, basically, yet now only FBI SA DOLAN is listed and in this report the FBI gives Waldman a receipt for the microfilm after they take it by 5am 11/23..
http://www.ctka.net/...sRiflePart1.pdf
More importantly is what then happens to this FILM and what also happens to the remaining inventory of these rifles which we SHOULD have seen to check the shipment's seriel #'s... This is a "closed-loop corroboration" in that the evidence proves itself as long as nothing outside the loop is considered.
For this reason we never see another C20-T750 order nor know the fate of any one other of the 99 rifles in that shipment. That they were ever at Klein's is unproveable given the Evidence.
With the extant microfilm missing from its cannister at the Archives - the OTHER COPY of the film sure could put alot of conflict to rest. Anyone ever hear where that might have gone?
I hope you find some new info in this presentation. I know I did.
DJ