I have been experiencing difficulty with embedding YouTube videos into posts and I'm sure others have as well. There was a recent update to our software that appears to be the culprit. I have discovered a method to upload YouTubes to posts, but it takes a little patience.
I will show you how to do this properly using a clip from one of my favorite comedians, Brian Regan.
In the past when I wanted to post a YouTube I would simply copy the URL from YouTube, in this case: https://youtu.be/zVRVA3mun3Q
Then I would press the "BBC Code" button located above the U (underline button) just to the left of the "Font" selection box in the toolbar menu. It has green horizontal lines across it. Then I would select "Media" from the drop down menu and paste the URL into the space provided.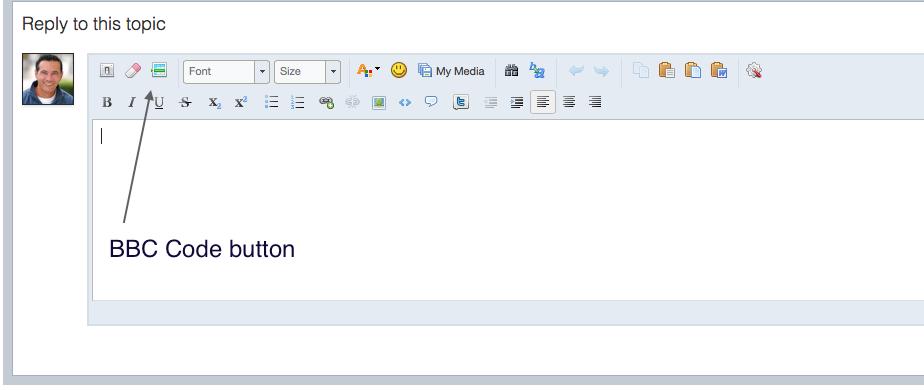 That would be it.
However, since the bug started, the YouTube will not show up by using that method. Instead only the URL appears: https://youtu.be/zVRVA3mun3Q
Here's how to make it work. You MUST do this in the exact order as listed.
Follow the normal instructions until you've pasted the URL into the Media space provided. Then you MUST press the ENTER key once. Next, you must delete the "s" from https:// -- so that it reads http://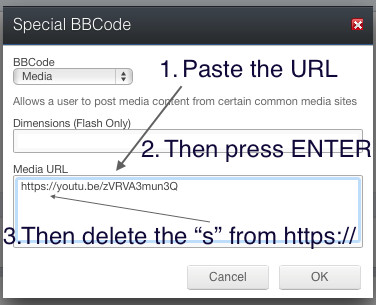 4. Then press OK.
If you follow that procedure until the bug is corrected you will be able to post YouTubes.
For clarity, if you remove the "s" from https:// BEFORE you have pressed the ENTER key it will NOT work properly.
Thank you for your patience. I am working to get these glitches resolved asap.
So I am going to embed the YouTube using the method I just described to see if it works right.
Voila`